Aphria (OTCQB:APHQF) reported its fiscal 2019 Q1 results last week for the period ended on August 31, 2018. While the stock was under the spotlight after Altria (MO) was reported to be in talks with Aphria for a minority investment, we think investors should not overlook the operational challenges highlighted by Aphria's weak quarterly results. We will make it easy for you to understand what happened this quarter and what are some of the things you should look out for in the next few quarters as legalization stared Wednesday.
(All amounts in C$ unless otherwise noted)
Quarterly Review
Aphria reported 2019 Q1 revenue of $13.2 million which represented a 10% growth over last quarter and a 117% increase from last year. The revenue growth from last year was largely driven by the inclusion of Broken Coast acquisition which closed in February 2018. Aphria also sold significantly more cannabis through the wholesale channel as it dumped strains not ordered by the provinces ahead of legalization. Wholesale orders increased from 32,452 grams to 312,023 grams, representing the majority of the increase in grams sold from last quarter. Costs also rose materially during the quarter and the company blamed the lack of qualified workers at its greenhouses. Aphria had to destroy one week's crop of 13,642 plants due to insufficient labor at its Aphria One facility. Aphria has since ramped up hiring to fix the labor issue but full automation remains a few quarters away. Gross margin declined from 79% to 64% which would have been 71% if the crop loss did not happen. The company has cited significant operational issues with the upcoming legalization in Canada. Provinces have been sending POs and Aphria is having difficulties scaling its operations because of unforeseen complexities. The procurement process is complicated by the different systems used by each province and the onerous burden on Aphria to ensure exercise tax stamps are properly labeled on products shipped to each province. As several media reports pointed out, the exercise stamping process is costly and prone to error.

Net income rose sharply to $21 million largely because of gains from equity investments from Hiku Brands (OTCPK:DJACF) and Tetra Bio-Pharma (OTCQB:TBPMF). Hiku was acquired by Canopy (CGC) at a significant premium and Tetra also enjoyed a rally during the quarter. However, the core business of Aphria was unprofitable as net income excluding investment gains would have been a negative $1.4 million. It is interesting to note that Aphria has a much smaller investment portfolio compared Aurora Cannabis (OTCQX:ACBFF).

During the quarter, the company also divested several equity stakes in public companies including stakes in CannaRoyalty (OTCQX:CNNRF) for $4.1 million, Hiku for $30 million, and its 500,000 shares in MassRoots (OTCQB:MSRT) for a minimal amount. The company's remaining equity investments include 10 million shares in Tetra Bio-Pharma, a $7.3 million stake in Scythian Biosciences (OTCQB:SCCYF), and 4.85 million shares in National Access Cannabis (OTCPK:NACNF). The company also owns convertible debt in two private companies that will be convertible into common shares upon public liquidity events (i.e. IPO): $16 million in HydRx Farms and $10 million in Canadian cannabis retailer Fire & Flower.

Aphria has over $313 million of cash and equivalents at the end of the quarter which leaves the company with a lot of flexibility in terms of capital deployment. Upcoming uses of cash include the construction of a new extraction center that has been delayed by 2-3 months due to licensing issues, in addition to the completion of Phase IV and V of the greenhouse expansions. Aphria is one of the better-capitalized names in the space and we do not foresee any need for new capital raise in the near future.
Operational Hiccups
Part of the key highlights from this quarter was the significant operational challenges that Aphria experienced with regard to labor and regulatory approvals. First of all, Aphria had to destroy a whole week's crops because not enough labor was available for harvesting, which resulted in a significant negative impact on the gross margin and bottom line. Aphria has since doubled the workforce at its greenhouse but we think profitability will likely suffer due to a surge in labor costs and inefficiencies resulted from the learning curve. Automation remains a few quarters away as Aphria continues to work towards completion of the Part IV and V expansions. The concern partially comes from the fact that labor already became such a bottleneck with only 30,000 kg of capacity, which gave us concerns when the company eventually ramps up to 255,000 kg annually by early 2019. Recently, there have also been rumors of massive crop failure at a Canopy facility, which, if true, would show that the industry as a whole is still inexperienced at managing large-scale cultivation and hiccups are likely to happen more often as companies ramp up production to unprecedented levels.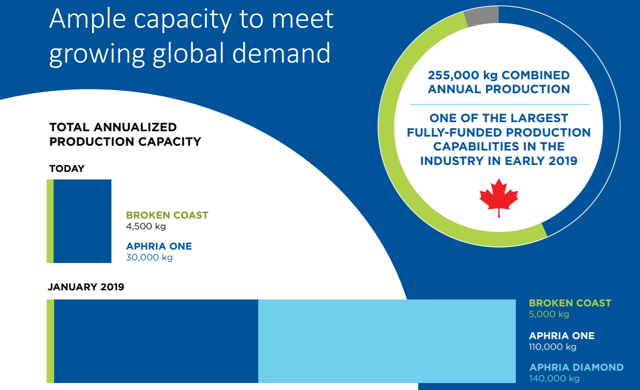 Aphria has also been facing significant delays at Health Canada which made it very difficult for Aphria to meet demands when legalization starts this week. On the earnings call, CEO Vic Neufeld addressed the regulatory delay:
It again reflects everyone's desire to be good partners to every province, but it still comes with supply chain issues and labor. Lot of us have equipment that needs Health Canada approval, and we've been frantically and patiently waiting. There is a lot of moving parts. These are not necessarily excuses but they are the reasons why a lot of LPs will not be able to fulfill the MO use that the provincial regulators are looking for.
We think Aphria has made it clear that it won't be able to meet all the demand on day one of legalization. Health Canada is jammed up with a backlog of pending approvals and Aphria is having internal issues with regard to labor, which we believe ultimately falls on the management for failing to foresee the issue and address it proactively. We think investors need to reset their expectation that everything will go smoothly in Canada and build a margin of error into their forecast given that Aphria already faced significant operational issues before legalization even started. To be honest, we are a little disappointed that Aphria management failed to avoid the problem because the company has prided itself as one of the lowest-cost and consistent operator with several years of growing experience. We would have expected similar problems to be more prevalent among smaller first-time growers.
Looking Ahead
Based on Aphria's commentary around regulatory delays and the fact that it has only started shipping to provinces 2-3 weeks ago, we expect the company to fall short of meeting all the demand during the initial few months post-legalization. Aphria's operating system will be tested to its limit and we expect the next quarter to be another messy one given the likely one-time costs associated with labor and other initial setups required to meet the sudden surge in demand. Next quarter would also officially include sales from legalization so investors will be able to get a glimpse of the profits and margin available under the various provincial regimes. Aphria's shares fell 3% on Friday when the entire cannabis sector enjoyed a massive rally with Aurora up 8.23% and Canopy up 5.6%. We think Aphria's weak numbers and the operational challenges were the main reasons for the drop. The stock still ended the week up double-digit due to the Altria (MO) news. However, investors are served with a blatant reminder that cannabis companies enjoy a massive valuation premium and execution needs to be near-perfect in order to justify their existing share prices. Any major operational hiccups could result in sudden share price corrections as investors revise their assumptions. We remain optimistic that Aphria is well-positioned despite a challenging quarter driven by our belief that Aphria will succeed in attracting investment from Altria or establishing partnerships with leading players in tobacco and beverages.
Author's Note: Follow us to receive our latest publications on the sector. We also publish a widely read Weekly Cannabis Report, which is your best way to stay informed on the cannabis sector. We are the only place to find detailed research on over 50 cannabis companies in the U.S. and Canada.
Disclosure: I/we have no positions in any stocks mentioned, and no plans to initiate any positions within the next 72 hours.
I wrote this article myself, and it expresses my own opinions. I am not receiving compensation for it (other than from Seeking Alpha). I have no business relationship with any company whose stock is mentioned in this article.
Editor's Note: This article covers one or more stocks trading at less than $1 per share and/or with less than a $100 million market cap. Please be aware of the risks associated with these stocks.