Boardwalk REIT (OTCPK:BOWFF) has definitely been on our naughty list for the last 2 years. Our gripes with it had a lot to do with unreasonable valuations, weakened outlook for Alberta and management's rather overoptimistic views of net asset values (NAV).
Since our first coverage of this on June 7, 2017, Boardwalk has easily been the worst-performing apartment REIT on the TSX. While we wish we could say that we owned InterRent REIT (IIP.UN), our only pick in this sector, Northview Apartment REIT (OTC:NPRUF), has outperformed Boardwalk by over 46%.
Why Boardwalk lagged so badly
Boardwalk had one of the problems we often see with industry leaders. Investors had bid it up to sky-high valuations, and even when the stock retreated, it was trading upwards over 20X adjusted funds from operations (AFFO). Another problem was BOWFF's rather high dependence on Alberta for its NOI.

Source: Boardwalk Q3-2018 presentation
The province lagged the other Canadian provinces after the 2015 oil price collapse, and the large supply of rental units made us feel that a recovery will take many moons. However, in evaluating everything that has happened, we changed our minds and now are more positive on the stock.
The province unemployment appears to have bottomed
Alberta has been doing much better of late, and this is despite some serious recent headwinds from wide oil differentials.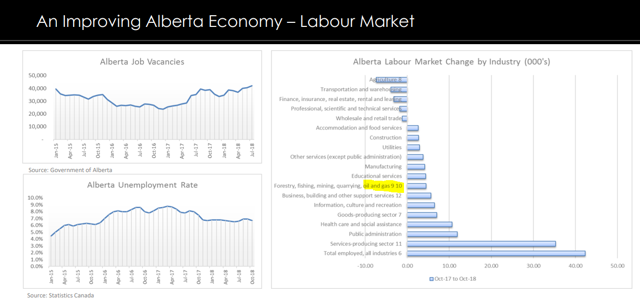 Source: Boardwalk Q3-2018 presentation
Both Calgary and Edmonton continue to reduce dependence on oil and gas, and the energy sector continues to fall as a percentage of local GDP. This was most evident in the large number of jobs created in a rather wide WCS differential market. Alberta created 23,700 jobs in November, about 25% of the total in Canada.
Additionally, active steps by Alberta to address one of the biggest problems, the wide oil differentials, have finally stabilized WCS prices relative to WTI.

Source: Oil & Gas Magazine
Supply of units appears to have peaked
While we were positive on the Alberta economy in 2017, we still did not like the outlook for Boardwalk, as we expected a huge amount of rental supply on the market. These act with a lag, so the results of overbuilding during 2014-2015 time period continued to impact results till late 2017. This has changed for the better, and we expect much less supply going forward.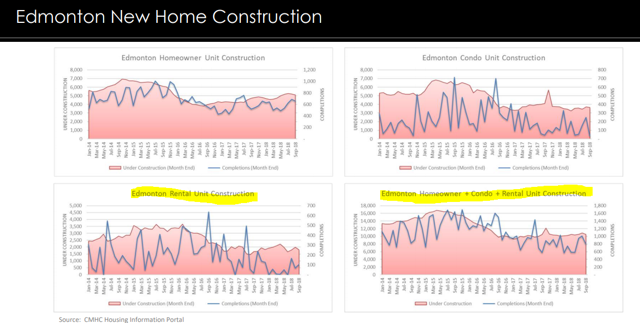 Source: Boardwalk Q3-2018 presentation
This, coupled with a stabilized and rising total Alberta population, appears to have put a floor on the rental market.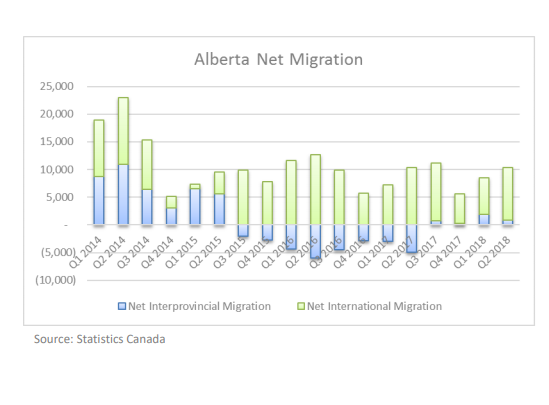 Source: Boardwalk Q3-2018 presentation
A valuation we can live with
Our main gripe with Boardwalk was always its sky-high valuation. Even with the rising current year estimates and falling stock price, the REIT still trades at 21X AFFO.

Source: Boardwalk Q3-2018 results press release
But looking forward, we see 2019 AFFO moving into the $2.00-2.25 range, and at the current price, we would be buying at about 17X AFFO and 14X FFO. In the apartment REIT space, Canadian Apartment Properties REIT (OTC:CDPYF) trades at about 18X 2019 FFO. Morguard North American Residential REIT (MRG.UN) trades at about 15X 2019 FFO. Our favourite in the sector, NPRUF, trades at under 11X 2019 FFO. So, while Boardwalk is not a screaming bargain, it has corrected enough to move into the middle of the pack.
The other aspect of valuation is the NAV. Apartment REITs generally trade at decent premiums to NAV. In that area, BOWFF's 30%-plus discount to NAV might make it seem like a big bargain.

Source: Boardwalk Q3-2018 results press release
However, we have always been skeptical of management's NAV calculation, as they have used rather optimistic NOI numbers ($311 million) in their valuation.

Source: Boardwalk Q3-2018 financials
That said, the stock has fallen so far that it is now actually below our NAV calculation of $43.52 per share, based on what we think is a long-term run rate of NOI.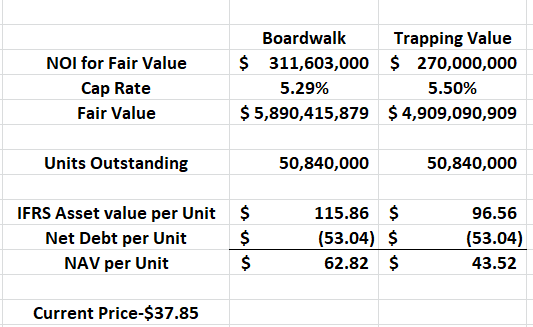 Source: Boardwalk Q3-2018 financials and author's estimates
Key Risk
While investors may think oil and gas prices should top this list, we don't see it as a risk as long as oil differentials are stabilized. We instead view Boardwalk's large refinancings as a big headwind to the AFFO.
As it stands, the interest rates for every single year of maturities, except those for 2028, are higher than the current CMHC rates.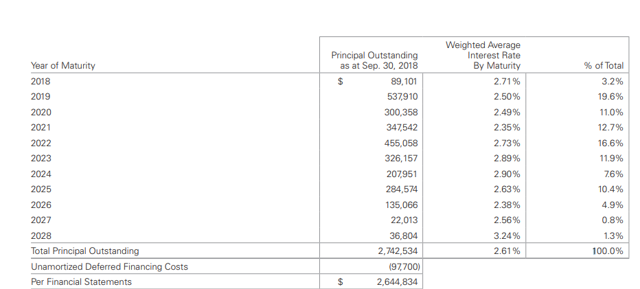 Source: Boardwalk Q3-2018 financials
Conclusion
We like Boardwalk here, and it has had to contend with numerous problems that have weighed the stock down. The yield is still a rather paltry 2.65%, and that makes income investors take a pass on this one. But net-net, the risks and rewards of owning this stock have moved favorably. We think this can trade to $50 in 3 years. That, alongside a 2.65% dividend, gives it a total return potential of 12.6% a year. Boardwalk has above-average exposure to interest rates compared to other REITs, and that is what we would watch out for. We rate the stock as a Buy now, as the REIT has generally been able to outpace interest rate increases in the past via rental rate increases. For more analysis such as this, along with real-time alerts on income stocks on both sides of the border along with option income ideas, please consider subscribing to our marketplace service Wheel of Fortune.

The Wheel of FORTUNE is one of the most comprehensive services, covering all asset classes: commons, preferreds, bonds, options, currencies, commodities, CEFs, etc.
Take advantage of our year-end special: 5% discount (to current base fee, which is moving up 4% to $1,092 on 1/2/2019), free two-week trial, and access to our 20-part "Getting Ready For 2019" series, e.g. Information Technology, as well as to the brand new "set portfolio" we introduce.
Disclaimer: Please note that this is not financial advice. It may seem like it, sound like it, but surprisingly, it is not. Investors are expected to do their own due diligence and consult with a professional who knows their objectives and constraints. All amounts referenced are in Canadian dollars.
Disclosure: I am/we are long NPRUF. I wrote this article myself, and it expresses my own opinions. I am not receiving compensation for it (other than from Seeking Alpha). I have no business relationship with any company whose stock is mentioned in this article.
Additional disclosure: We might initiate a long position BOWFF.